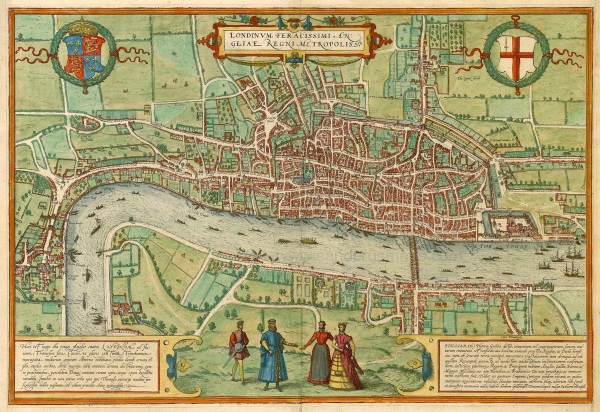 Map of London by Braun & Hogenberg, c. 1560 (Wikimedia, CC)
By around 1300 London had become one of the largest cities in Europe. Its population is estimated to have been around 80,000. Most of the population lived within the City of London, north of the Thames, although Southwark had become a substantial urban settlement sprawling out from the south end of London Bridge.
Spatial organisation
The judicial power of the coroners comprised the territory of the City of London. By the early 14th century, the City comprised areas both inside the old Roman wall, as well as outside the wall. The City was subdivided into 24 wards - political units with a strong self-governance. Areas outside the wall are referred to in the Coroners' Rolls as 'without' - "Farringdon Without", for example, refers to the area to the west of Ludgate and Newgate towards Holborn.
The city had 110 parish churches, each serving a small area within the city. Additionally, the city comprised extra-parochial areas.
Markets
The Medieval Murder Map shows concentrations of homicide cases in several areas. Some of these were linked to the main markets in London, where large numbers of people would gather throughout the day. The most important market area comprised Cheapside, the main East-West artery through London since Roman times, and the surrounding streets.
Different types of produce were sold in specific areas, leading to place names like Goldsmiths Row, Milk Street, Poultry, Bread Street and Honey Lane. A second market area concentrated around Leadenhall. Big fish markets existed around Billingsgate and Queenhithe by the Thames.
Occupations and guilds
Crafts and trades in medieval London were organised in guilds. Guilds were associations that defended the interests of a trade, regulated quality standards of products and provided charitable support to members. At the top of the hierarchy of guilds were the 12 Great Livery Companies, including, for example, mercers, grocers, fishmongers, goldsmiths, skinners and haberdashers.
Members of some guilds were often involved as either victims or perpetrators in the homicide cases - in some cases we hear about fights between gangs of apprentices. Trades that are mentioned frequently in the documents include goldsmiths, carpenters, fishmongers, saddlers, skinners and tailors.
Another important occupational group in medieval London that was often involved in homicide cases were 'clerks'. The word cleric/clerk referred both to members on the church and to a man of learning.
Inns of Court
To the west of Ludgate, were the four Inns of Court, buildings were lawyers carried out their profession and legal students were trained. Several homicide cases in 14th century London involve law students.
We are planning to expand this section with more information. In the meantime, we would like to acknowledge two of our sources: the Museum of London and The History of London.